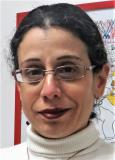 Email
sharoni.haleva.amir@gmail.com
CV

CV

EDUCATION

1995 – LLB – Faculty of Law, Tel Aviv University

2005 – MA – Information Science (Internet Studies track), Bar Ilan University

2014 – PhD (Web Applications in the Service of Knesset Members: Personal Israeli Politics in the Digital Era). Supervisor: Prof. Niva Elkin-Koren, Faculty of Law, University of Haifa.  

 

ACADEMIC AFFILATIONS/APPOINTMENTS

2010 - 2019 – Research Fellow, Center for Law & Technology (HCLT), University of Haifa

2012 – 2016 - Adjunct Lecturer, Information Science Program, Beit Berl Academic College

2013 – 2016 - Adjunct Lecturer, MA Executive program in Political Communication, Political Science Department, Tel Aviv University

2016 – 2019 – Faculty member, School of Communication, Bar Ilan University

Summer 2018 - Visiting Research Fellow – Tilburg Institute for Law, Technology and Society (TILT), Tilburg University, the Netherlands
Research

Research

My research lies in the interdisciplinary field of e-Politics. It combines politics & technology and studies the novelties of personal political use of new technologies. My studies deal with the interrelation between parliamentarians and constituents, during electoral and non-electoral periods, using web platforms. My academic focus lies between new technologies and the public sphere in three different dimensions:

(1) the political - communicative dimension; (2) the public democratic dimension and (3) the legal dimension.

My interdisciplinary education in Information Science, Political Science, Communication and Law enables an in-depth look at technologically-related social phenomena. Since 2006 I have been exploring Members of Knesset (hence – MKs) usage of web applications (websites, blogs, SNS etc.) my research aims to understand the ways in which technology impacts the parliamentary work and the political practices of MKs in the 21st century.

I have gained a high level of expertise around the topic and was the first scholar to study Israeli e-Politics. One of my articles has won 'Best Paper Award for 2013' by the Israeli Political Science Association.

 

I have been a research fellow in Haifa Center of Law & Technology (HCLT) since 2009 as well as a visiting scholar in Tilburg Institute for Law, Technology & Society (TILT) in summer 2018. I am a staff member of Bar Ilan's University School of Communication since  October 2016. 
Courses

Courses

COURSES TAUGHT / TEACHING EXPERIENCE

Media Law
Media Lew – International Program
New Media Introduction – Technology & Society
New Media Intro – International Program
Open Government
Digital Campaigns
The Political Web
Changing Concepts in the Digital Era
Legal and Social Sciences Databases
Recalculating Route: Perceptions' Change in the Digital Era
Academic Literacy: Research and Information Retrieval

 

(Teaching introductory and advanced courses; seminars and workshops; Hebrew and English courses; Frontal and Online courses) 
Publications

Publications

LIST OF PUBLICATIONS

Raphael Cohen-Almagor & Sharon Haleva-Amir, "The Israel-Hezbollah War and the Winograd Committee", Journal of Parliamentary and Political Law 2 (Oct 2008), 27-44.

Raphael Cohen-Almagor & Sharon Haleva-Amir, "Bloody Wednesday in Dawson College - The Story of Kimveer Gil, or Why Should We Monitor Certain Websites to Prevent Murders",Studies in Ethics, Law and Technology, 2(3), Article 1 (Dec 2008).

Sharon Haleva-Amir, "Present – Absentees: MKs Usage of Personal Internet Tools", in Erez Cohen & Azi Lev-On (eds.) Connected: Politics and Technology in Israel (Tel Aviv: Israeli Political Science Association, 2011) (Hebrew), 211-261.

Sharon Haleva-Amir, "Online Israeli Politics: The Current State of the Art", Israel Affairs 17(3)(2011), 467-485;

Raphael Cohen Almagor & Sharon Haleva-Amir, "Why Monitor Violent Websites? A Justification", Beijing Law Review 3(2) (2012), 64-71.

Sharon Haleva–Amir, "MKs Usage of Personal Internet Tools, 2009: On the Verge of a New Decade", World Political Science Review, 9(1) (2013), 219-261.

Sharon Haleva-Amir, "Political Communication: Online Campaigns in the Elections for the 19th Knesset" in Rafi Mann & Azi Lev-On (eds.) Annual Report: Israeli Media 2013- Agendas, Usages and Trends (New Media, Society & Politics Institute, 2014) (Hebrew), 79-90. 

Sharon Haleva-Amir, "Talking to Themselves: Classification of Facebook's Political Usages and Representatives' Roles among Israeli Members of Knesset", in Alex Frame & Gilles Brachotte (eds.) Forms and Functions of Political Participation in a Digital World (NYC, NY: Routledge, 2016), 13-24.

Sharon Haleva-Amir & Karine Nahon, "Electoral Politics on Social Media: The Israeli Case" in Axel Bruns, Gunn Enli, Eli Skogerbo, Anders Olof Larsson & Christian Christensen (eds.),Routledge Companion to Social Media and Politics (NYC, NY: Routledge, 2016), 471-487.

Sharon Haleva-Amir, "Not All about that Facebook: Political Campaigns and Civic Engagement in the 2015 Elections", Israel Affairs, 22(3-4) (2016), 711-726

Azi Lev-On & Sharon Haleva-Amir, "Normalizing or Equalizing? Characterizing Facebook Campaigns", New Media & Society 20(2) (2018), 720-739.

 
Last Updated Date : 23/02/2019